Boss Capital
March 2, 2015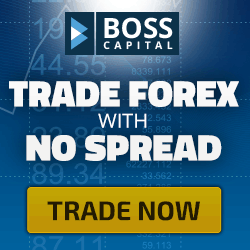 Platform and Trading Options
Boss Capital has been offering top quality binary trading services since its launch in 2014. It has since become one of the most esteemed trading platforms on the web, providing investors with payouts of up to 85%. Traders seeking the latest trading options to hit the market won't be disappointed. If you get a buzz from high speed trading, you're bound to love Boss Capital's 60 Second option, which enables profits of up to 85% to be made within less than one minute of trading. Popular classics such as Call Put and One Touch offer highly lucrative trading opportunities, with returns of up to 500% on successful trades.
Account Types and Bonuses
In order to reward its loyal customers, Boss Capital has introduced a bonus scheme for top investors.Basic package holders receive an extra 20% on their investment, whereas high rolling premium account members receive a 100% bonus. Five account packages offer an increasing number of benefits for traders to enjoy. Binary options trading has never been so accessible, with investments starting at a mere 500 USD.Additional perks include 24/7 access to an expert account manager, personal consultations with a senior market analyst, expedited withdrawals and risk-free trades.
Tradable Assets
With a collection of almost 200 tradable assets, Boss Capital's vast selection is among the most diverse in the industry. This is ideal for traders wishing to customize their trades and capitalize on their areas of interest and expertise. Among the stocks on offer are well-known global corporations such as Facebook, Disney, Netflix and Apple. Currencies continue to be the most popular asset among traders, as it allows investors to take advantage of sudden swings in the world market. Traders can choose from a host of currencies, from common denominations like the euro, dollar and yen to less widespread tenders such as the Swedish krona and South African rand.
Academy
For expert guidance in your trading, Boss Capital offers its elite members personal sessions with a financial analyst in order to maximize their profit potential. All traders benefit from unlimited access to a well-stocked learning resource center. The trading academy is ideal for those taking their first steps in binary options as well as advanced investors, with basic and advanced online video courses available.Areas focused upon include winning trading tactics, technical analysis and financial management. A series of live webinars led by senior market analysts aid traders in keeping on top of the latest market trends. Boss Capital's exclusive eBook can be downloaded by all members and is the ideal guide to binary options trading, with an extensive glossary of trading jargon and tips for devising a winning trading strategy.
Customer Support
The services of a skilled customer care team can be sought via email, live chat or telephone, depending on whichever is most convenient for you. To ensure all questions are responded to promptly, customer service can be accessed 24 hours a day, 7 days a week. As an added benefit for its global client base, Boss Capital employs an international support team which can provide support in ten different languages.
Whether you're seeking generous bonuses, varied trading options, a wide range of tradable assets or a comprehensive educational academy, Boss Capital is the number one platform of choice.
All info was correct at time of publishing